To change more than one rows at a time:
In "Replacement table" window select more than one row.
To select more rows, drag mouse between rows, or select rows "from" and "to" pressing Shift key. To select all rows press Ctrl + A.
Press Edit button or F2 key.
To change chosen field, set proper Change switch and enter changes in "Edit row" window.
Press OK, this will change chosen field in all selected rows.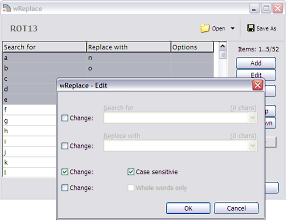 In the illustration above, after pressing OK button, all selected rows will have Case sensitive option set. Other options and phrase values will not be changed.
Other chosen problems