Main window of wList program has a toolbar and a giant list result area. A comfortable Search panel appears at the bottom of main window (after pressing Ctrl+F).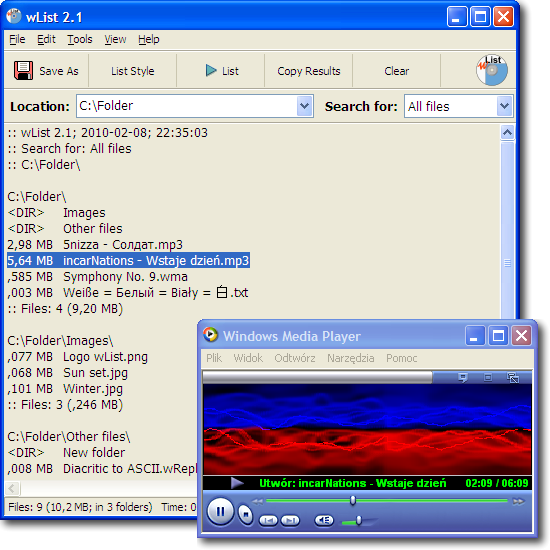 Toolbar
Most features of this toolbar are clearly described on the screen. Additional explanation appears when you move mouse cursor over each control. Let's focus on a few additional features:
Texts: "Location" and "Search for" are buttons also. Press them and test how they work.
In location field you can use a few aliases: "<Desktop>", "<My Documents>" and "<Program Files>". You can combine them with regular path, like: "<My Documents>My Music".
To enter more paths into a location field, separate them by vertical bar character "|".
List result area
There are two important features of this area:
Open selected item. You can open file directly from the list. Just double click it or place text cursor and press F9. View pictures or listen music directly form wList software.
Explore selected item. To explore folder containing the item keep Ctrl key pressed during double click or place text cursor and press Ctrl+E.
Search panel
Press Ctrl+F to see search panel. You can read more about it here.
See other windows
wList windows